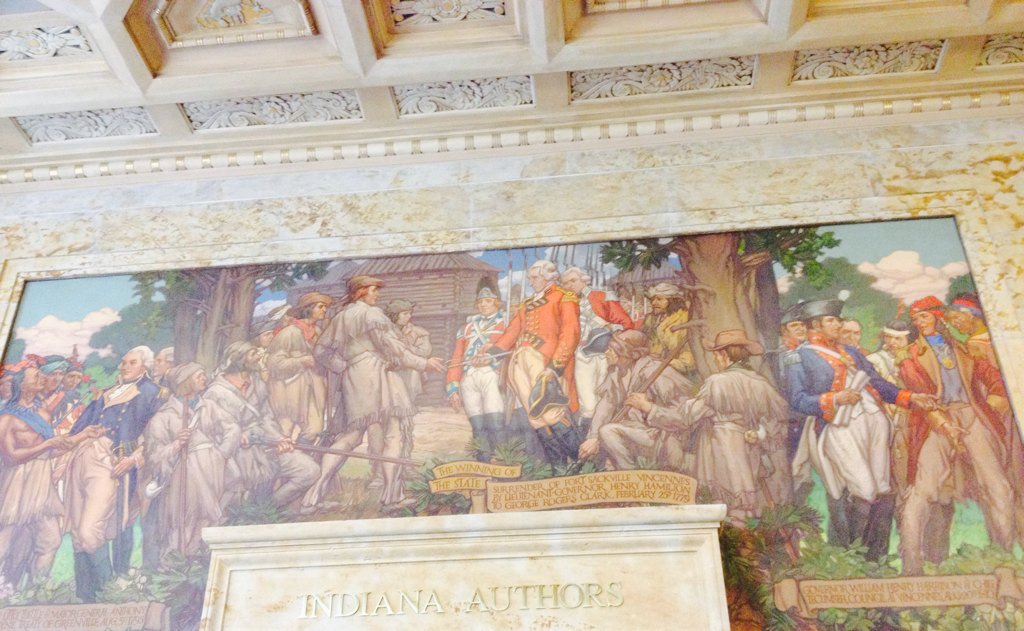 The view from my booth at the Indiana State Library
I participated in the Indiana State Library's Genealogy & Local History Fair today, and it was a wonderful experience. Genealogists are some of the nicest bunch of people, I'll tell ya. We may like hanging around dead people, but we're still friendly with the living.
Well, I was there to promote my books, and I did sell a few, glad to say, but I also spread the word about The In-Depth Genealogist, which I now proudly write for. But the best part was the connections that I made! I sat across from the ladies at the Clinton County Genealogical Society, and we discussed my husband's Ploughe ancestors who lived in Clinton County. I also met Naomi from Scott County, and she purchased my books. (I hope you like them, Naomi.) I don't have any Scott County ancestors, it's one of the few counties in Indiana I'm not connected with, but I hope to maybe see them again next year.
But I was very excited to make a connection with the Society of Indiana Pioneers. I have been toying with the idea of joining their society for years now, and today after meeting their genealogist, Michele, I think I'm finally going to do it. I know I qualify- I am a 9th generation Hoosier on both sides, after all, and I've already found my ancestor Jesse Vawter on their list of approved ancestors, I just have to track down all the documentation to prove I'm his descendant. But for me, the big Indiana history guru to not be a part of their society by now, is a little silly, dontcha think? I know, about time.
Side note, I'm also joining the Indiana Genealogical Society. If you join now, you get an extended membership to the end of 2016. That's worth it, I'll say.
I'm excited to make more connections and maybe travel a little, if not in person, then at least on the page. I just finished my first research proposal before writing this blog post, which completes my first course of graduate school towards my Master's in American History. And after today, I'm more inspired than ever to keep writing, and keep researching. Will you join me?